Top 100 iPhone and iPad Games of 2010 guide – OUT NOW!
January 26, 2011
What were the best iPhone, iPod touch and iPad games of 2010? Don't worry, it's not a test. In fact, the Pocket Gamer team is happy to tell you…
Just released is the Top 100 iPhone and iPad Games of 2010, a guide that selects Pocket Gamer's favourite titles of last year and represents the latest addition to the recently launched Pocket Gamer Directory on the App Store.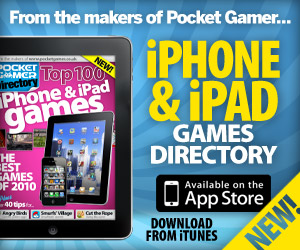 With 100 reviews of 2010's finest iOS experiences to discover, 84 pages of authoritative gaming goodness and handy App Store links for effortless shopping, it's guaranteed to revitalise your iPhone, iPod touch or iPad collection.
And once you're done devouring the selection, you can digest our extensive tips for some of the biggest games on the App Store. So if you're stuck on Angry Birds, Cut the Rope or Smurfs' Village, you're in luck.
For dessert your attention will no doubt be drawn to the series of Pocket Gamer's current Top 5 favourites, categorised in the guide by genre. Perhaps you're just interested in strategy titles, only live for action platforming or relish the sedate nature of boardgames? Well, you should find the team's top recommendations vital.
Whichever way you approach it, the Top 100 iPhone and iPad Games of 2010 brings you the essential play experiences no seasoned iOS gamer or proud new owner of a portable slab of Apple technology should be without.
It's available now so check it out by simply downloading it from within the Pocket Gamer Directory app.
Your comments…