Official Windows Phone Apps Magazine – out now!
May 1, 2011
Everything you need for your WP7 handset in one gorgeous package…
Steel Media is giddy with excitement at the unveiling of its latest creation: the Official Windows Phone Apps Magazine.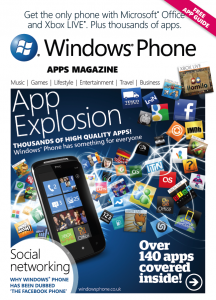 Featuring 32 pages crammed to the edges with nothing but Windows Phone goodness, the publication is a must-read for all WP7 users wishing to push their handset to the absolute limits of smartphone ownership. But those just wanting to enrich their knowledge of their fancy Microsoft mobile will get plenty out of this too.
Indeed, with a thorough introduction to the Windows Phone's many features, a detailed look at Marketplace, special reports on WP7's social networking and Xbox Live capabilities, and over 140 apps and games covered inside, there really is something for everyone.
Can't wait to see it? Well, you're in luck because you don't have to. Microsoft has stuck the Official Windows Phone Apps Magazine on its Facebook page. Well, the Windows Phone 7 is the 'Facebook phone', after all.
Your comments…