OUT NOW: Issue 22 of the Pocket Gamer Guide to Mobile Games & Apps
September 22, 2011
Get your apps, get your games – the finest content is all here…
The Pocket Gamer team has published the latest issue of its Pocket Gamer to Mobile Games and Apps magazine, which is now available from T-Mobile stores across the UK and can also be viewed online.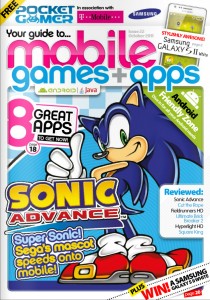 It's 22 pages crammed with the finest content for your beloved mobile. And continuing the publication's increased focus on Android, owners of mobiles faithful to Google's operating system will also find a wealth of entertainment, as well as a handpicked selection of essential apps to smartphones to the very limits of smartphonism.
Not got a smartphone? You've come to the right place. This issue features the brand new Samsung Galaxy S II White – one of the most capable handsets currently available – and gives you the chance to win it. The only thing you need to do is answer a quick and simple question.
Oh, and cross your fingers. Good luck.
Steel Media boasts award-winning editorial and design credentials and we have a spiffing track record on the commercial side, with experience in providing a full range of editorial, design and other contract publishing services – everything from targeted marketing campaigns to full customer communications solutions – to a number of leading blue chip companies.
Your comments…