Press release: Steel Media launches the Official Pocket Gamer Guide to Galaxy on Fire 2 – out now
October 2, 2012
Interactive publications designed as companion guides for the biggest mobile gaming releases

PRESS RELEASE | For Immediate Release
Bath, UK – 2nd October 2012 – Do you know your Tyrfing Blaster from your 128MJ Railgun? Can you pinpoint the tactical advantages of each ship in the Nivelian fleet? Would you know whether trading in Pan Whiskey is more profitable than sticking with Y'mirr Schnapps?
No? Then you need the Official Pocket Gamer Guide to Galaxy on Fire 2. Published by Pocket Gamer parent company Steel Media, and produced in association with Fishlabs Entertainment, it's the essential companion to the GOF2 gameworld – including expansion packs Valkyrie and the just-released Supernova, of course – and the first in a new line of delightfully interactive and individually tailored publications designed to help take a player's your mobile gaming experience to the very limit of human enjoyment.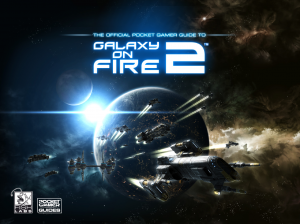 Each PG Guide aims to deliver a comprehensive package to aid both the newcomer and the seasoned fan: From series backgrounds, mission logs, complete in-game item breakdowns, tactical advice, character rundowns, to gameworld exposés, developer interviews (with expert insider tips, no less), sneak peeks at upcoming updates, and more – it's all here. And all wrapped up in a layer of interactive deliciousness that only a digital magazine can provide.
"Kicking off the PG Guides with one of the most intricate gameworlds currently available on the App Store presented a considerable but gratifying challenge, and one we've been able to meet thanks to Fishlabs's excellent cooperation throughout the project," said Pocket Gamer Guides editor-in-chief Joao Diniz Sanches. "There is huge satisfaction in creating an intuitive app that not only complements the overall experience of a particular title but also helps maximise a player's in-game enjoyment.
"We have a number of other guides currently in the production pipeline and look forward to bringing those to life in a manner that will both delight and – most of all – help fans of these games."
"Hardly anyone does a better job of writing about mobile games than Pocket Gamer," said Michael Schade, CEO of Fishlabs Entertainment. "Hence, we knew right away that they were the perfect partner for us in this undertaking. In terms of content and layout, the Official GOF2 Guide HD is absolutely stunning and we're sure that it will come in more than handy for every Galaxy on Fire 2 fan out there. This is without a doubt the best looking and most complete GOF2 encyclopaedia on the iPad!"
So the next time you're stuck, remember you don't have to be. If there's a Pocket Gamer Guide for your game of choice, then playing nirvana awaits.
The Official Pocket Gamer Guide to Galaxy on Fire 2 – HD Edition is available now on iPad (with an iPhone version coming soon), and can be downloaded from the App Store here.
CONTACT
For more information please contact: Chris James: chris [at] steelmedia.co.uk
You can also find out a little more info at www.pocketgamerguides.com
Ends
Notes to editors
About Steel Media
Steel Media is a leading mobile consumer technology publisher based in the UK. With a team boasting over 90 years of experience in consumer and contract publishing, the company currently publishes Europe's biggest mobile and handheld gaming website PocketGamer.co.uk, the leading mobile games industry portal PocketGamer.biz, consumer friendly iOS digital magazine swipe, and respected iPhone gaming portal AppSpy.
Steel Media also runs iPhone Quality Index and Free App Alliance, as well as the iPhone Alliance and Smartphone Alliance advertising networks, syndicates content to mobile operators and handset manufacturers, and provides a range of editorial, design and other contract publishing services to a number of leading blue chip brands.
For further information the Pocket Gamer network or Steel Media, contact Chris James: chris [at] steelmedia.co.uk
About Fishlabs Entertainment
Since its founding in 2004, Fishlabs has developed high-quality 3D titles for every relevant mobile game platform. Since 2008, Fishlabs have also brought their cross-platform expertise, passion, and experience to Apple's App Store and produces hardcore 3D titles with AAA+ appeal and console feeling for the iPhone, iPad, and iPod touch. Thanks to our high quality and our loyal fans, we have been able to hold our own again and again in international hit lists with familiar titles like Rally Master Pro and Galaxy on Fire and to do what we do best: make games that thrill us and our fans. We are especially proud of our upcoming jewel in the galactic heavens and successor to our cult classic: Galaxy on Fire 2 for iPhone, iPad and iPod touch – stay tuned.
Your comments…