Press release: Steel Media launches Smart TV Radar site
October 9, 2012
Everything you need to know about smart TVs in one handy place

PRESS RELEASE | For Immediate Release
Bath, UK – 9th October 2012 – Steel Media is delighted to announce that some of its busy bees have been putting the finishing touches to a brand new addition to the publisher's portfolio of websites. Smart TV Radar (www.smarttvradar.com), as its name hopefully suggests, aims to cover the buzz surrounding the growing market of smart and connected televisions, as well as the hardware that brings smart TV capabilities to existing 'standard' television sets.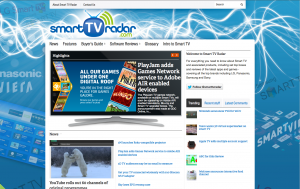 Smart TV represents a revolution in how television content is consumed by establishing a viewing platform that operates outside of traditional scheduling constraints. And that's before you factor in the ability to browse the internet, catch up on social networking duties, or get sucked into games/apps – all from the comfort of your sofa.
If consumers felt intimidated when purchasing a new television set during the LCD age, the complexity of choosing the right smart TV will prove daunting. That's where Smart TV Radar comes in.
"Smart TV is set to become a part of all our lives, especially with the increased involvement from the likes of Google and Apple, plus growing support from the top content providers, broadcasters and game developers," said Smart TV Radar editor Jonathan Morris. "Whether in the form of a new television or a set top box with connected features, consumers now have new ways to enjoy content, more choices on how to pay for it, plus the growing 'second screen' experience that brings exciting new levels of interaction using your smartphone or tablet.
"With a highly fragmented industry that sees multiple platforms to choose form, it's hardly surprising so many people are confused and uncertain on what to buy, or when. This was the sole reason for launching Smart TV Radar as a definitive resource to cover all of the choices out there, as well as reviewing the content, apps and games for those who have already taken the plunge."
"Having enjoyed massive success in the mobile gaming sector doesn't mean we're not able or willing to expand into other exciting areas where we feel we can apply our in-house expertise," added Chris James, Steel Media MD. "Smart TV is a sector with a very promising future – indeed, one that ties effortlessly into our current editorial remit – and in Jonathan we have someone who is perfectly suited to drive this new addition to our portfolio."
Smart TV Radar is now live at smarttvradar.com.
CONTACT
For more information please contact Jonathan Morris: jonathan.morris [at] steelmedia.co.uk
Ends
Notes to editors
About Steel Media
Steel Media is a leading mobile consumer technology publisher based in the UK. With a team boasting over 90 years of experience in consumer and contract publishing, the company currently publishes Europe's biggest mobile and handheld gaming website PocketGamer.co.uk, the leading mobile games industry portal PocketGamer.biz, consumer friendly iOS digital magazine swipe, the Pocket Gamer Guides range of interactive game companion apps, and respected iPhone gaming portal AppSpy.
Steel Media also runs the 148Apps network, the Quality Index and Free App Alliance, as well as the iPhone Alliance and Smartphone Alliance advertising networks, syndicates content to mobile operators and handset manufacturers, and provides a range of editorial, design and other contract publishing services to a number of leading blue chip brands.
For further information the Pocket Gamer network or Steel Media, contact Chris James: chris [at] steelmedia.co.uk
Your comments…