swipe magazine issue 2 is out now on Newsstand
October 12, 2012
'The best of iOS' publication to become regular on the App Store's dedicated digital magazine platform
Following on from its initial and successful foray onto the App Store earlier in the year, swipe magazine (swipe mag to its friends) has returned with a new edition. The arrival marks the start of a regular production schedule for the publication, as well as a move to Apple's Newsstand platform due to popular demand from readers of swipe issue 1.
If you missed it fist time around, swipe is an interactive digital publication aimed squarely at users of Apple's iDevices.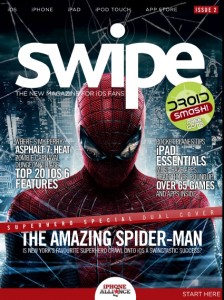 Unlike previous digital publications that have offered comparatively flat print magazine conversions or included iOS content as secondary filler, swipe is built with interactive HTML5 goodness from the ground up and focused squarely on the biggest and best content to hit the App Store. That means that not only is it tremendously fun to use, but it also cuts straight to the stuff that's worth downloading.
Every issue focuses on the biggest and greatest games to have recently made it onto the App Store, while highlighting forthcoming titles worth keeping an eye out for, and offering how to guides or walkthroughs for some of the most popular releases. And it's not just games – expect regular rundowns of the apps that any self-respecting iPad, iPhone, or iPod touch owner should check out. Then there's also the usual array of features, interviews, hardware round-ups… you probably get the gist.
The magazine's content is sourced directly from members of the iPhone Alliance, a collection of the world's finest independent sites covering the iOS scene. So readers get access to an uncommonly broad coverage selection, as well as a cross-section of views from sites whose opinion you can trust.
While the interactive awesomeness of swipe magazine is designed primarily with iPad screens in mind, iPhone owners are also catered for with their own, more compact, edition.
swipe mag is available now on Newsstand. The magazine app is free, with iPad editions costing $1.99/£1.49 each ($0.99/£0.69 on iPhone), and can be downloaded by clicking here.
Your comments…