iPhone edition of The Official Pocket Gamer Guide to Galaxy on Fire 2 now available on the App Store
December 19, 2012
Smaller in size but not in nature, boasting the same comprehensive content as the previously released iPad version
Fearlessly following its bigger iPad-only brother into the depths of the App Store, the iPhone edition of The Official Pocket Gamer Guide to Galaxy on Fire 2 is now ready to help iPhone/iPod touch-owning, GOF2-playing digital space cadets by providing a comprehensive breakdown of Fishlabs's celebrated inter-galactic epic.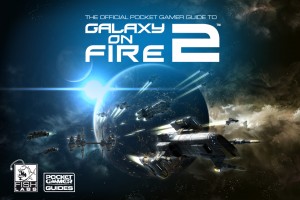 For anyone who has been holidaying in the Skavac system, the GOF2 Guide is the first in the Pocket Gamer Guides series – digital publications designed to enhance a player's experience of their favourite game by detailing information, tips, and generally handy features that will help them along their quest.
For Galaxy on Fire 2 this means, amongst others, complete breakdowns of the ships, equipment, weapons, Blueprints, trade routes, missions, and star systems players will encounter when playing as Keith T Maxwell in GOF2, as well as the game's acclaimed Valkyrie and Supernova expansion packs.
But the assistance doesn't end there. Oh no. Users of the guide can also expect to learn useful strategic combat tips and some of the easy ways to make money, while those wanting a more behind-the-scenes style tour will enjoy the exclusive interviews with Fishlabs's GOF team members.
In short, there's no time for inferiority complexes here: the iPhone edition mirrors the content from its iPad brethren. That content just happens to be squished into a smaller – some would say more beautiful – screen.
The Official Pocket Gamer Guide to Galaxy on Fire 2 for iPhone is available from the App Store now, priced at a recession-friendly 69p/99c.
Your comments…