Issue 5 of swipe magazine revs onto the App Store
February 21, 2013
'The best of iOS' digital publication gift that keeps on giving…
Another month, another edition of your essential digest of the finest content on the App Store: swipe magazine.
If you missed it so far, come in closer for an information cuddle: swipe is a dedicated, built-from-scratch interactive digital publication for iOS devices. Every issue aims to cut straight to the App Store additions that are worth downloading.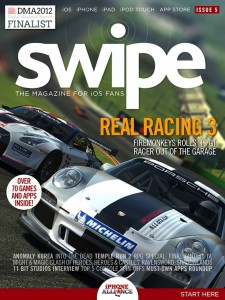 For February we set off with Real Racing 3 on the cover (which is also the subject of a proper hands-on), and follow this up with our usual round-up of recommended apps and accessories, a friendly chat with 11 bit studios, a latest iPad how to (it's only easy if you know how, remember), hints & tips guide to Hundreds, and our choice of Top 5 Console Spin-off games to hit iOS.
Oh yes, games. We've obviously got reviews of the latest & greatest: Anomaly Korea, Temple Run 2, Into the Dead, and co, as well as a bit of an RPG round-up special. In total, we've crammed over 70 games in the issue so there's plenty to choose from.
The magazine's content is sourced directly from members of the iPhone Alliance, a collection of the world's finest independent sites covering the iOS scene. Which means you get a cross-section of views from sites whose opinion you can trust.
swipe magazine is free, and available now on the App Store. Download it here.
Your comments…