Pocket Gamer presents iTips Magazine – available now on the App Store
May 15, 2013
All the help you need to beat 40 of the biggest iPad games in one easy-to-check, free, digital reference
Meet iTips Magazine, your digital gateway to hints, tips, and walkthroughs for a whole load of top titles on iPad, provided by the experts at Pocket Gamer – one of the world's leading iOS gaming websites. Even if we say so ourselves (it's true, though).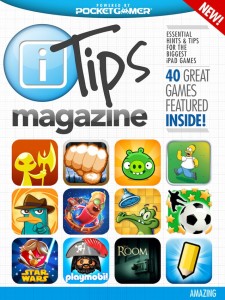 iTips Magazine is the only dedicated tips guide that covers the biggest iPad games, and which has been built from the ground up as a true interactive digital experience for your tablet. The launch issue covers 40 of the currently biggest and most popular iPad games, including Angry Birds Star Wars, Clash of Clans, Kingdoms of Camelot, Minecraft – Pocket Edition, The Simpsons: Tapped Out, Skylanders Lost Islands, and a whole lot more.
The game selection process for these kind of projects can sometimes be shrouded in secrecy and involve input from pixies and a semi-blind cat. But for iTips the team just tried to pick games across a variety of genres and which appeal to a varied audience. Chances are some of the inclusions will be in your game collection, some won't.
If you don't know a game, don't worry. Every title featured comes complete with a Pocket Gamer review to give you the lowdown you need. So you get world-class editorial content from one of the top iOS gaming sites (honestly), combined with Steel Media's renowned design and production ethos.
That's the kind of union that even Rita Wilson and Tom Hanks can't top.
iTips Magazine for iPad is free and available from the App Store now.
Your comments…