Jobs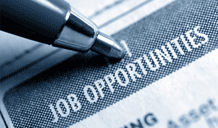 Steel Media is a fast-growing player in consumer Internet publishing and customer solutions. We've always got an eye open for talented types to join our gang, from freelancers to full-time staffers.
With our main operations split between London, Manchester and Bath, Steel Media is a very flexible company to work for. We have writers filing stories from Egypt to Oregon and everywhere in between.
What counts most with us is passion, talent, enthusiasm and reliability.
……………………………………………………………………………………………………………………..
Freelance writers
Want to review mobile or handheld games for Pocket Gamer? Fancy writing about the latest handset technology for PocketPicks? We're already stuffed to the gills with great contributors, but who knows, you might be in luck.
We're currently unable to consider writers who've not been published elsewhere. Please cut your teeth writing for free for webzine or similar, then get back to us.
Send us three links to your three best pieces of work online.
If you've only been published offline, contact us for details of where to post us the cuttings.
To be considered and for more information, email us your pitch
Please watch this space, as we'll include links to any jobs that become available. (You might consider subscribing to our RSS feed).