July 31, 2013
Lima Sky's triumph jump starts Steel Media's 'Companion' range of guides… Read more
July 25, 2013
Free help on how to be good in a land that's bad… Read more
July 16, 2013
Firaxis's console-to-iOS phenomenon XCOM: Enemy Unknown manoeuvres itself onto this month's cover Read more
June 17, 2013
Boldly goes where no guide has gone before Read more
May 15, 2013
All the help you need to beat 40 of the biggest iPad games in one easy-to-check, free, digital reference Read more
May 2, 2013
Warballoon Games's hugely anticipated Kickstarter-funded sensation goes live on the App Store in celebration of the issue. Or is it the other way round? Read more
April 16, 2013
More compact format joins the PG Guides family Read more
April 2, 2013
Ridiculous Fishing-friendly edition reels in the month's 'best of iOS' content… Read more
March 12, 2013
The Steel Media production cauldron has been brewing up a new addition to the Pocket Gamer Guide family. The Official Pocket Gamer Guide to Bubble Witch Saga HD follows the recently released iPhone version of the BWS guide but, as App Store naming convention suggests, it's been created for owners of iPads.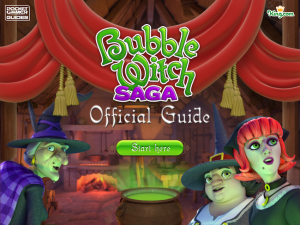 Published by Pocket Gamer parent company Steel Media, and produced in association with Bubble Witch Saga publisher King.com – along with expert input from leading BWS fan site, The Blogging Witches – the guide is brimming with BWS hints, tips, and knowledge to help players conjure up some mad BWS skills.
The content is identical to the iPhone edition of the guide – so expect complete lowdowns on the game's Charms, Special Bubbles, Spiders, and Magic Potions, essential tips, exclusive insight from key BWS team members, and comprehensive video walkthroughs of the 50 hardest levels, amongst other inclusions – but takes advantage of the tablet format's larger screen to enhance usability (as well as adding a little flourish here and there – we couldn't resist).
The Official Pocket Gamer Guide to Bubble Witch Saga HD is available now on the App Store at an ever-so-reasonable £0.69/$0.99.
February 21, 2013
'The best of iOS' digital publication gift that keeps on giving… Read more