Quality Index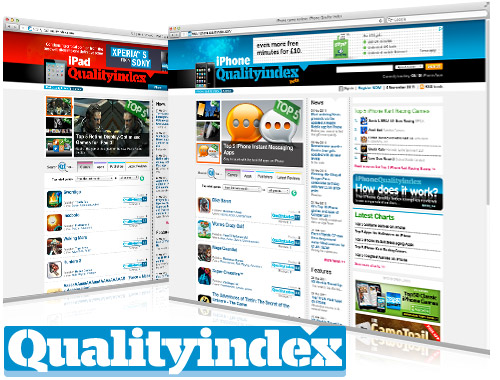 Condensing critical opinion from the best websites into one definitive score.
AND… Now featuring Android reviews!
Like all the best things in life, our approach is relatively simple.
Step 1. We comb the web and the newsstands for the most respected sources of critical opinion on games and apps.
Step 2. We feed these scores into our intelligent database, match them to the appropriate apps, and then apply a dash of our special secret sauce via a unique formula to create the definitive score.
Step 3. The resulting Qi score is then fed back into the site and run through our various feeds and filters to provide the ultimate aid to app selection.
Our belief is that by carefully selecting and then combining critical viewpoints and organising them in a logical way we provide app consumers with an indispensable guide to making their purchasing decisions. However, although the Quality Index provides an invaluable point of access, it's not intended to replace the in-depth critical opinion. Indeed, we include links to the full reviews from every page for those who want to dig deeper.
The Quality Index focuses on iPhone, iPad and Android apps.
As a commercial entity, the site may well enter into relationships with third parties from time to time, both in terms of selling advertising space and licensing our content. However, our policy now and always is that our commercial and editorial teams are kept separate and there will at no time be any impact upon the editorial content that is displayed on the site by any commercial agreement.
The Quality Index tracks every app on the App Store and Google Play store (and even the Amazon App Store), contains over 630,000 independent reviews by the world's leading sites, and is becoming the de facto rating system for iOS & Android publishers.